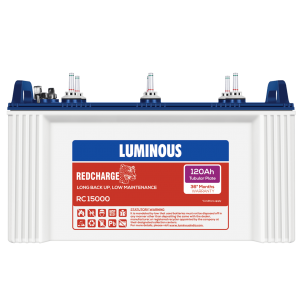 What are the benefits of Tubular Battery?
A tubular battery for inverter is better equipped and has a longer service life for long power backup needs. This best inverter battery uses less water top ups. Tubular batteries are more durable than a flat plate battery and usually come with a longer warranty period.
Worrying about long power cuts? Luminous tubular plate inverter battery for home offers complete satisfaction during power cuts. Its pencil-type armoured tubular plates are custom designed for uninterrupted power delivery during long power cuts. This inverter battery for home use comes in abrasion-resistant, leak-proof tower type polypropylene container with 20% more electrolyte, which ensures lower maintenance and better safety. Tubular inverter battery for home is 100% recyclable and safe to the environment, if handled as per recommendation. Its super long life combined with power-packed performance makes it the best battery for inverter.