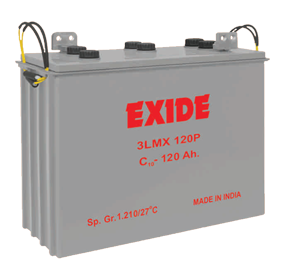 What are Industrial Batteries?
Industrial Batteries are large scale energy storage solutions for requirements where normal batteries are not enough. Examples of industries where industrial batteries are used include power, railway, manufacturing, chemical, etc. 
Our industrial segment includes sales to power backup equipment (UPS), traction equipment (forklifts, golf carts, electric vehicles), infrastructure sector (railway, telecom, solar, power generation and utilities) and exports (traction and standby).
As India's largest storage battery company with widest range of both conventional flooded as well as latest
VRLA batteries, we design, manufacture, market and sell the widest range of lead acid storage batteries in the world – batteries ranging from 2.5Ah to 20,600Ah capacity – to cover the broadest spectrum of applications. We market our industrial batteries to the domestic market, under Exide, SF and CEIL brands. Internationally, our major brands are CEIL, Chloride and Index.