The whole world is talking about Global Worming trying the level best cleaning the environment and save the living and non-living things. We at Opal Industries have taken the responsibility to take the environment.
In this new era of energy conservation, we have strived hard to innovate a new concept in water heating. "Onyx Eco smart Renewable Energy water Heater" is the only of its kind where surrounding heat is extracted and released to water, resulting in water heating and ambient colling.
A small amount of electric-al energy is involved in the process, hence you save 70% of electricity depending on ambient conditions.
Onyx water heater extracts heat from the surrounding air and releases it to the water tank, resulting in heated water and simultaneously cools the surrounding air. A small amount of electrical energy is involved in the process; hence power consumption is very low. It is transferring of renewable energy and not converting electrical energy to heat energy.
Save Upto 75% On Electricity Innovative Water Heater Uses Atomspheric Heat To Heat Water.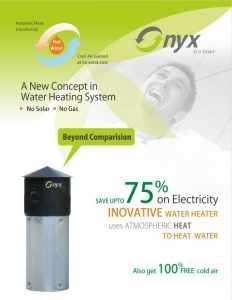 TECHNICAL DATA: Onyx Renewable Water Heating systems
Model
Onyx
2-100
2.5-200
2.5-300
Tank Size
LIT
100
200
300
Hearing Capacity
kcal/hr
6000-7700
7500-9700
7500-9700
Heating Capacity
Kw
7-9
8.75-11.25
Electrical Consumption
Kw
2
2.5
2.5
Operating C.O.P
3.5-4.5
Voltage
Volts
230
Phase
Single
Frequency
Hz
50
Ambient Temperature Range
°C
5-50
Temperature Maximum
°C
60
Display
Digital Temperature
Max. Operating water pressure
kg/cm2
7.5
Water connections
"BSP (F)
15
25
25
Overall Diameter
mm
570
770
770
Overall Height
mm
1400
1830
2255
Dry Weight
Kgs
125
225
265
Operating Weight
Kgs
225
425
565
It is the only of its kind which produces cool air that can be used, if required.
House

Hospitals

Clinics

Hostels

Restaurants

Hotels

Resorts

School

Industries

Salon

Pools

Washing

Surface Cleaning

Gymnasiums

Laboratories
Durable

Pollution Free

Uses Renewable Energy

Eco- Friendly

Saves up to 75% on Electric Energy

Compact and occupies less floor area

Neither Sunlight nor LPG required

Use anytime of the day during any season

High Standard of Quality

Innovative and High Operating Efficiency